04/03/18
---
RELATED PAGES
---
NOTE TO OUR FOREIGN CUSTOMERS:
Our Videos and DVD's are in NTSC format and will not work in PAL players. For DVD's, you do not need to worry about "Regions" as they will play in all Regions if the player is NTSC.
---
GET FIRED UP!
Featuring System 96
By Lisa Vogt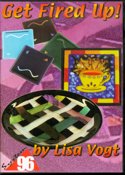 Glass fusing is hotter than ever (ok, that was bad). Two names come to the forefront in fusing: Lisa Vogt and System 96.

In this 45 minute presentation, Lisa demonstrates everything you need to know to GET FIRED UP for a successful fusing project every time. She covers glass selection, tools and materials, the different kilns available and several glass manipulating techniques using a variety of fusible glasses.
Order #29301-D for DVD Format $24.95
Lisa Vigt has been working in glass since 1988. Working in fused glass has given Lisa a chance to draw on her fine arts background and sense of style, drama and whimsy to combine an historic medium with innovative design. Lisa has published seven pattern books, written several articles for Stained Glass News, Glass Craftsman Magazine, Glass Patterns Quarterly and Glass Art Magazine. She also conducts seminars and workshops around the country, most notably at Glass Craft Expo in Las Vegas.
GET THE LEAD OUT
With Tommy Giambusso (Tommy G)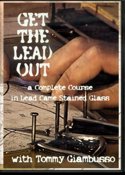 The Copper Foil Method seems to be the only method anybody teaches. Finding a good resource for Lead Came instruction has been next to impossible ... until now.

GET THE LEAD OUT is an 80 minute workshop on lead came technique. Tommy covers:
selecting the right came
proper tools
setting up properly
soldering
puttying (cementing)
framing the finished panel
and more
Too many instructors and "how to" books gloss over this important aspect of stained glass, but not Tommy G. You'll get everything you need to know demonstrated in full color.
Order #29302-D

for DVD Format $24.95
Tommy G has probably taught more people the lead came technique than any other instructor. Tommy has had a long career in stained glass and owns Manhattan Stained Glass, the only supply shop in Manhattan. Tommy specializes in restoration work as well as creating new works of art. Catch Tommy at Glass Craft Expo where he presents in person workshops on the leaded technique.
25 PRO TIPS & TECHNIQUES
FOR STAINED GLASS
By Joe Porcelli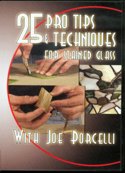 In this 50 minute program, Joe Porcelli demonstrates 25 fantastic time saving tips that will make any stained glass project easier and more efficient. Joe has taken the most popular glass cutting, foiling and soldering tips from his years of workshop experience and put them into this hands-on video. Bound to be a best seller among glass craftspeople of any skill level, this video is the latest release from one of the glass industry's most sought after instructors.
Order #29300-D for DVD Format $19.95
Joe Porcelli is an acknowledged master of Tiffany style lamp making, repair and restoration, is publisher of Glass Craftsman Magazine and author of the best selling Lampmaking Handbook, a guide to tiffany style lamp making, and Jewels of Light, a history of stained glass.
TRADITIONAL GLASS PAINTING Lesson 1 - Tracing and Matting
By Peter McGrain

by Peter McGrain covers the amazing world of painting on glass. This ancient technique, once regarded as being only applicable to religious stained glass windows, can be wonderfully utilized in a modern context on any kind of glass work. McGrain unveils the vast possibilities that can be accomplished with kiln fired paints. This video demonstrates the use of traditional stainerís paints, in tracing, matting and stipple modes. THIS IS A THREE HOUR PROGRAM, so you know that there will be plenty of detail. Thereís information on prepping your work, kiln set up and firing, tracing, matting, stippling and multiple application techniques. PLUS info on studio set up, recommended equipment and sources of supply. A must have for any aspiring or experienced glass painter.
Order #29303-D for DVD Format, three hours, two DVD's $39.95
TRADITIONAL GLASS PAINTING Lesson 2 - Advanced Techniques
By Peter McGrain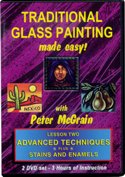 LESSON TWO, ADVANCED TECHNIQUES
PLUS STAINS AND ENAMELS
Taking you several steps beyond Lesson One, this new DVD by Peter McGrain introduces you to the concept of Vitrifusaile - a combination of fused glass, tracing and matting. He then follows this with advanced techniques using silver stains and enamels. Plenty to see and do in Lesson 2.

Order #29305-D for DVD Format, three hours, two DVD's $39.95
TRADITIONAL GLASS PAINTING
Vitri-Fusaille
By Peter McGrain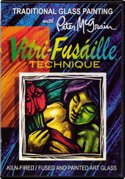 VITRI-FUSAILLE
Peter McGrain shows you how to do Stained Glass without the lead lines! Vitri-fusaille combines traditional glass painting with fusing to let you overcome the physical limitations imposed by copper foil or leaded techniques. This DVD takes you step by step through the process including patterns, fusing, painting trace lines and matting and highlighting. A great addition to your hot glass repertoire.

Order #29308-D for DVD Format,$24.95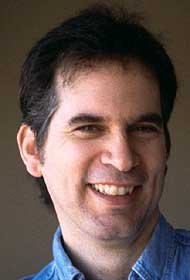 Peter McGrain has been dazzling everyone in the art glass world with his dramatic sense of design, sophisticated use of glass and color to achieve moods and truly monumental installations across the US and the world. Put all that together with a laid back personality and a willingness to share every secret of his success, you know you won't be disappointed in this video presentation. Catch Peter in person at Glass Craft Expo for instruction on Painting on Glass as well as design secrets.