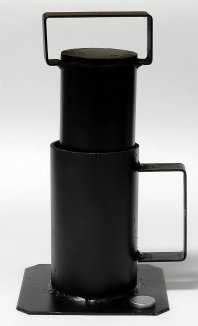 FRIT PISTON
Quick and easy frit production is possible using the Frit Piston. Make as little as you need or make up larger batches - you're in control of how much and how coarse you need.
Heavy steel construction. Comes complete with super-strong rare earth magnet to remove any metal bits that are created during the process, (HINT: put magnet in an envelope when removing metal bits. Remove the magnet from the envelope and metal bits won't stick).
Complete with instructions.
Use with the Frit Sifters below to sort and grade your frit.
Order #7506 $49.99
FRIT SIFTERS
SET OF FOUR
Run the raw frit from your frit piston above though this series of four sifters to separate Coarse, Medium, Fine and Powder sizes. Constructed with stainless steel mesh and nickel plated steel cups
Order #7505 $44.99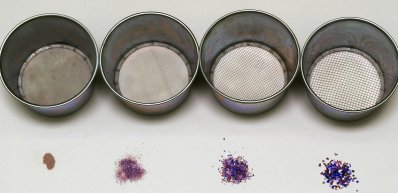 Sifter cups are 3-3/4" tall and 4½" in diameter
Screen sizes are (from left to right) <0.2mm, 0.2-1.2mm, 1.2-2.7mm and >2.7mm


Powder Sifter
FINE LINE SIFTERS
Use these sifters to lay down approx 1mm wide lines of powder or enamels. Easy to use. Fill cone with desired powder/enamel and run the ring along the ridges on handle. The vibrations will gently release the enamel in a fine, controllable line on your work.
#7550 Sifter for Powder, approx 1mm wide line