DUAL ACCESS LID AND FIRING CHAMBER FOR GREAT FLEXIBILITY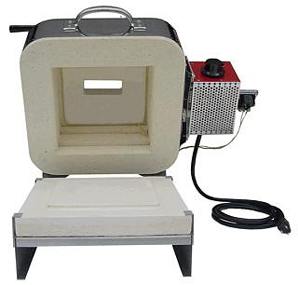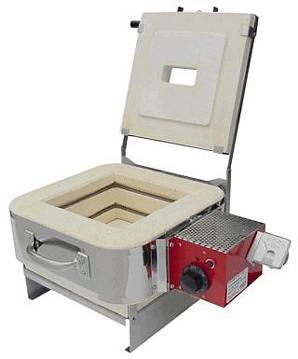 The Studio Pro combines both front and top access into one, truly revolutionary design.
Front access is perfect for placing molds or glass projects. Simply build on your shelf and close the chamber. Wide open access also allows for the use of many manipulation tools such as raking. There's no need to contort or compromise - it's wide open!
Top access is excellent for venting. Top access also works very well when loading tall pieces such as forms and comes in very handy when using manipulation tools that require a vertical approach such as glass embossing. The design includes a fiber lid that, unlike a brick lid, does not continue to "throw off" heat when opened.
Comes with pyrometer and infinite switch control. Runs on standard house current, 120 volts. Draws 1440 watts, about the same as a toaster oven. Has standard three prong plug. Delivered to your door via UPS.
NOW AVAILABLE WITH SET PRO CONTROLLER - CLICK HERE for details