Large 23.5" Diameter Will Fit 21" Round Kiln Shelf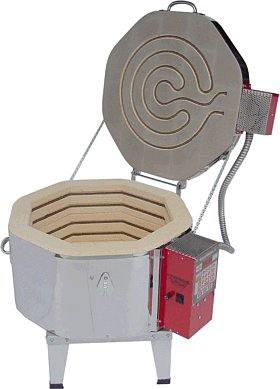 Now we're talking serious kiln work. The GTS-23 Series has room to fuse and slump 20" diameter bowl and platters. Available in both 9" and 13" deep versions, you have all the room you will need to create your warm glass masterpiece! Requires a 240 volt, 40 amp electrical circuit.
The RampMaster 3 Controller with Express Mode gives you ultimate control. Express Mode is a three step program: Set the COE of the glass you are firing, your firing style (slumping, tack fuse, full fuse or casting) and the speed you wish to fire at. Use the Custom Mode to enter the ramp (rate of temperature change) set point (the target temperature) and any soak (time spent at target temperature). Up to 32 different segments (ramp, target temperature and soak = 1 segment) may be programmed in. And the unit will store 12 programs (sets of segments that make up your firing schedule) for quick and easy recall.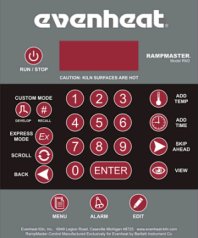 While the kiln fires, the controller display shows the current kiln temperature and which segment is being processed. While your program is running, you have the flexibility to change settings on the fly.
New Alarm Feature for 2010: RampMaster III controllers have an option to sound an alarm to tell you that your program is at the "process phase" where control or intervention on your part might be critical. You can then keep an eye on things as your glass begins to slump or when you reach full fuse. An alarm can also be set to let you know when your work is entering the annealing phase. In that way, you can check to be sure your piece has fused or slumped to your satisfaction.
FEATURES:
top and side elements for even heat distribution
firing chamber dimensions are: 23.5" diameter x 9" deep
Optional 13" deep version available
Comes with RampMaster III Controller as standard equipment.
maximum working temperature: 1800°F (982°C)
includes stand to raise unit from the floor
UL listed (US) and C-UL listed (Canada)
Ships via Motor Freight or available for pickup at our warehouse
Set Pro Controllers are also available for this kiln - see below

GTS 23-9 Kiln with 9" depth and RampMaster 3 Controller
Order #7663
Factory List is $1,895.00
Just $1,765.99
---
GTS 23-13 Kiln with 13" depth and RampMaster 3 Controller
Order #7663-13
Factory List is $1,970.00
Just $1,835.99 Our Wednesday Walk-in Discount does not apply to EvenHeat kilns and Accessories