14 X 14 KILN with SetPro Controller
Our Best Selling Kiln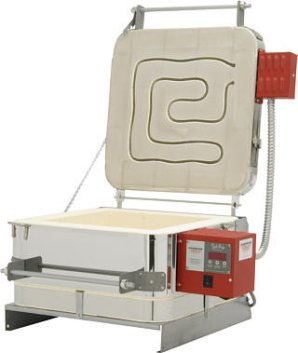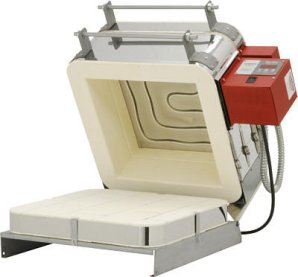 TOP ACCESS MODE ON LEFT, FRONT ACCESS MODE ON THE RIGHT
This kiln is the answer to so many requests for a kiln that runs on 120 volts but gives you the largest working area. The firing chamber is 14½ x 14½ by 6½" tall. EvenHeat's dual hinge construction gives you the flexibility of using a front loading and top loading kiln all in one unit.

The Set Pro Controller is a snap use. You easily enter the ramp (rate of temperature change) set point (the target temperature) and any soak (time spent at target temperature). Up to eight different segments (ramp, target temperature and soak = 1 segment) may be programmed in. And the unit will store four programs (sets of segments that make up your firing schedule).
Set up is quick and easy with digital read-out and three buttons for entering your firing schedule. While the kiln fires, the controller display shows the current kiln temperature and which segment is being processed. While your program is running, you have the flexibility to change settings on the fly.
FEATURES:
top elements evenly spaced for even heat distribution
firing chamber dimensions are: 14½" long, 14½" wide and 6½" deep.
maximum working temperature: 1650°F (900°C)
suitable for all kinds of warm glass work including slumping, fusing, painting and kiln casting
also perfect for silver clay firing as well as low fire ceramic firing or china painting
includes 16" tall stand to raise unit to a comfortable working height
120 volts, 15 amps, 1800 Watts, Requires 20 amp breaker and 12 gauge wiring.
130 lb shipping weight. Ships via Motor Freight or available for pickup at our warehouse

Studio Pro 14 Kiln and Set Pro Controller
Order #7666
Factory List $1175.00
Our price is $1095.99 Our Wednesday Walk-in Discount does not apply to EvenHeat kilns and Accessories