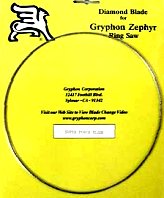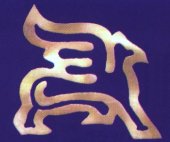 Four different blades are available for the Gryphon Zephyr Ring Saw
All Blades are 7" in Diameter


STANDARD BLADE is the blade that came with your saw originally. A general purpose blade that balances speed, durability and clean cut. Order #03450

FINE BLADES are made for more delicate work and are recommended when working with dichroic or iridized glass. The finer grit diamonds are less likely to chip. Order #03457

SEPARATING BLADES let you cut shapes from the inside of a piece of glass without a lead-in cut. The Gryphon logo, at left, was cut using a separating blade. Simply drill a hole on the interior of the piece, slip the blade through and start cutting. Order #03458

SUPER POWER BLADES have a coarse grit diamond coating for the fastest cutting. Not recommended for dichroic glass or thin glass.

All Blades are $59.98 each
All blades feature free shipping
click logo below for details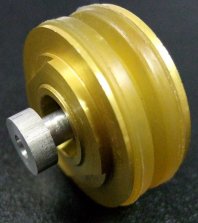 YELLOW GUIDE WHEEL WITH BEARING AND INSERT
You can either replace just the rubber inserts (see below) or the entire wheel with insert and bearing. Keep in mind:
1) Shaft adapter (silver part on left in photo) is NOT included with the guide wheel. Save the shaft adapter when removing the old wheel
2) The screw holding wheel on the saw body is reverse threaded. Turn the screw CLOCKWISE to loosen.
Your saw uses three Guide Wheels. Order as many as needed.
$27.99 Order #03452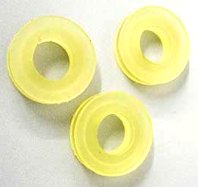 INSERTS FOR GOLD GUIDE WHEELS
Used in the Gold Guide Wheels, above. Your saw uses three of these inserts, sold as a set of three.
$13.99 per set of 3. Order #03451