12/08/23
---
Works like a Jig Saw for Glass!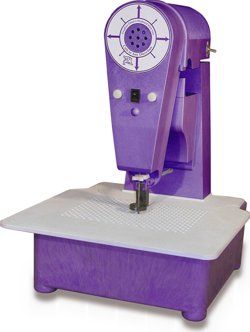 New version features faster, stronger motor, six blades, plus replacement guide blocks and blade chuck. You won't need to reorder parts any time soon!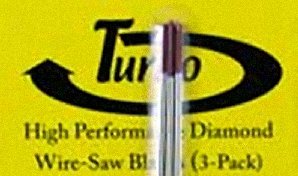 This is the ideal, low maintenance saw. This is the perfect saw for you if you want the best performance with the least maintenance! Blades are nearly indestructible. When it is time to replace a blade, a three-pack runs a fraction of the cost of band or ring saw blades. Easy to use, gives your glass a nice, finished edge with NO CHIPS.
Check these features:
Faster and stronger motor than in the Omni 2
1/4 hp, 5000 rpm high torque DC motor
Comes with SIX blades
Includes spare blade guides and chuck
built in water pump for longer blade life
1 sq ft work surface gives you plenty of room
Safety finger guard
7" Blade with 2" stroke, 5-1/4" throat
Bright LED illuminates your work area
Simple and straight forward design means no alignments, no blade adjustments and next to no maintenance.
Order #0360, Gryphon Wire Saw
$459.99
On Sale $409.97
Save $50
On Sale Thru 12/31/2023 or while supplies last
REPLACEMENT BLADES
CLICK HERE for replacement blades and parts for the Omni 2+ Saw
RELATED LINKS
Tips for Longer Diamond Blade Life
GRYPHON PRODUCT PAGES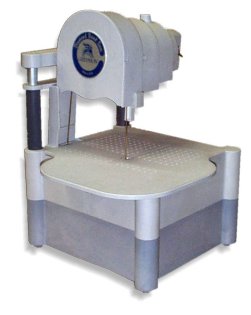 GRYPHON MODEL C-40, THE FINEST BAND SAW ANYWHERE!
Gryphon makes the finest, most trouble free band saw on the market. Not to mention it is also the FASTEST with a blade speed of 40 mph. We have sold hundreds of these saws to hundreds of happy crafters! This saw has the fewest moving parts, the motor is located ABOVE the water reservoir, there is only ONE adjustment you need to worry about ... all of this makes Gryphon's Model C the easiest to use and maintain.
CLICK HERE for tips on maximizing your blade life
Order # 03501
Regular $539.99
On Sale $489.97
Save $50
On Sale Thru 12/31/2023 or while supplies last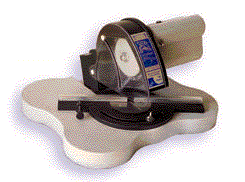 Check these features:
7000 RPM no-load blade speed
Gutsy 1.1 peak hp DC motor won't bog down when cutting steel or brass.
Safety see-thru blade guard
Miters neatly to 45°
Cuts materials to 3/4" thick and/or wide, even at 45° miter
Built-in fence and "Chop Saw" action for fast, safe cutting.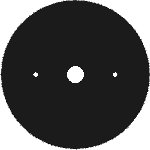 #0372 Toothed Blade for Lead Came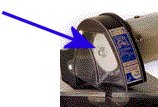 #0373 Blade Stiffener Disks
CAME SAW FOR CUTTING ZINC, BRASS OR COPPER CAME AND REBAR
Gryphon's Came Saw is a fast cutting saw that makes easy work of cutting zinc, brass or copper came plus steel or zinc rebar.
The special composite blade does not get dull like regular steel (even chrome steel) blades. If you have ever tried to cut Brass Came with any steel blade, you know it doesn't take more than 5 or 6 cuts to dull the blade. The 5.625" diameter composite blade is specially matched to the saw for optimal performance
If you use zinc, brass or copper cames or any kind of Rebar, you will want this saw! MADE IN USA. 1 year warranty.
Order #0370
Regular $369.99
On Sale $329.97
Save $40
On Sale Thru 12/31/2023 or while supplies last
---
REPLACEMENT COMPOSITE BLADE (#0371)
as supplied with the saw.
$16.99
Note: Composite blade is not recommended for use with lead came.
---
TOOTHED BLADE FOR LEAD CAME (#0372)
Recommended for cutting lead came, wood or plastic only. $21.99
---
BLADE STIFFENER DISKS (#0373) replace worn or damaged disks $25.99, set of 2